Stop surviving, start thriving.
That's the motto of #IntegrityFirst, the non-profit organization created by Kayla Crosby, owner of the Jamestown Jackals.
The Jackals are a member of the Premier Basketball League, which brands itself as 'The Triple A League of Professional Basketball.'
It was Aug. 28 of 2015 when Crosby officially announced the birth of the Jackals, and they are by all accounts her team. It's been a whirlwind from that date to where they are now.
"I had never heard of the PBL before," Crosby said while addressing the team last Wednesday. "It was really intriguing to me."
Crosby connected with Maceo Wofford, former star at Jamestown High School and Iona College, who played for the Erie Hurricanes of the PBL.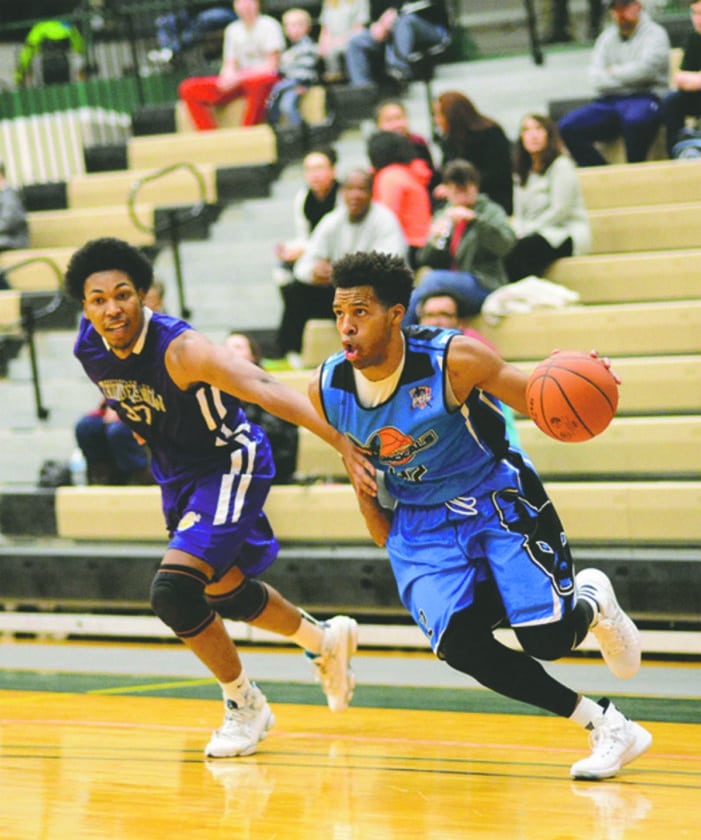 "I helped out as much as possible," she recalls. "Because I thought that was something I could see myself doing in the future."
As it turns out, the not so distant future.
"I called the commissioner (of the PBL) and started lining things up," she said to the team. "It just seemed like God was opening the doors I wasn't qualified on paper, but throughout my time pursuing it, it just continued to gain momentum."
She recalls not fully understanding all of what was necessary to run a professional basketball team and in fact didn't have a head coach until two days before the first home game.
"We ended up having a player who became a coach, and it was a complete blessing," she recalled.
This season, however, that has changed.
Enter coach Brandon Siskavich, as well as four returning players – Michael Davenport, Chris Davis and KB Baker, as well as eight new players.
The Jackals open the season on Sunday at home against the DuBois Dream at 4 p.m. at JCC, part of a 12-game home schedule.
Here's a closer look at the 2017 Jackals.
– – –
Coach Brandon Siskavich
Siskavich hails from Peru, a small town in upstate New York.
There, he was a standout basketball player and 1,000 point scorer who continued his basketball and academic career at SUNY Potsdam.
"As I got older, I realized I had the potential to play in college," he said.
While at Potsdam, he played for Sherry Dobbs Jr., a fellow Peru native.
"We had that connection, which was nice," Siskavich said.
He was a 4-year standout for Potsdam, and after that, took two years off to finish his degree in history.
He kept working out and training, however, and when basketball guru Jon Solomon put together a team that would be playing in Mexico, he was all in.
Not long after that, he was offered his first pro contact in Spain after playing in a summer league there.
For many reasons, he said that didn't turn out to be the right fit.
His next opportunity, and first in the coaching ranks came in China, for the Shanxi Brave Dragons junior team.
"That's really where I made the transition from playing to coaching," he said.
So what was that transition like?
"You still have to be prepared, have to work hard," he said. "It was nice to be able to take a step back and start teaching players everything I know about the game. I realized over time that I'm reaching though to these guys and they trust me as a coach. They really worked hard for me and for themselves."
Most recently, he returned home to upstate New York from Wilmington, NC in May.
"I was actually supposed to move to Syracuse where my fiancee lives, but we had some things to wait for," he said.
That's when he got a call from Solomon about another coaching opportunity.
"He's one of the guys that gave me an opportunity to play overseas in Spain and helped me get the job in China," Siskavich recalls. "Kayla met him through a phone call and not long after Jon called me and said 'I know this woman in the PBL who is looking for a coach.'"
The two (Siskavich and Crosby) connected on the phone, sharing a nearly 4-hour conversation, which resulted in a job offer.
"Kayla really had a lot of good, positive things to say about the organization and the team and what she's trying to accomplish," Siskavich said. "I prayed on it a lot and really let God guide me. It's such a blessing to be a part of this organization, this team. It's a nice feeling coming into a community that has opened its arms and embraced us."
He admits, however, there were still a few unknowns.
"I didn't really know what I was going to be getting into until I god here," he said. "It was a leap of faith., but also a great opportunity to come and be a part of something special. It felt like God was guiding me. Kayla is all about integrity and doing the right things. When she talked to me about that, it just really hit home for me and felt special and felt like it was something I had to be a part of."
He is now a big part of it, and has big goals for his team in 2017.
"We want to be able to get these guys comfortable with each other and it seems like they have already formed a brotherhood," he said.
2017 season
The Jackals season is now just a day away and McClester, a former standout at Pitt-Bradford, is excited to get going.
"I'm glad to be back," he said. "I think this year we'll have an even bigger fan base. I'm looking forward to that too. It gets us going as a team."
And as for the biggest differences he sees between last season and this season?
"Just the organization," he said. "The first year was a little rocky and everything isn't going to be as put together. But this year, everything is more put together. We have a group of guys that came back and a great group that came in. The chemistry is going to be there."
The Jackals advanced to the first round of the playoffs last season, and are hoping for even bigger things this year.
"Long term, we want them to have a successful, winning season," Siskavich said. "Last year they went 11-9 and I want to win as many games as I can with these guys. I think we have the potential and ability to do that. Their head and heart are in the right place, it's just a matter of pushing them every single day to get better."
Added McClester: "We want to get to the championship this year."
Siskavich also noted that a big part of his long-term goals for his players is to 'get these guys pro jobs.'
"That's the ultimate goal, to get these guys a paycheck to play professionally," he said.
Community outreach
Both Siskavich, Crosby and McClester spoke of the importance of community outreach, which is an enormous part of the Jackals and #IntegrityFirst.
"I feel like with us doing the community outreach, that really gets our names and faces out there to the community," he said.
Crosby made it clear to the players that it is part of their job, and everyone associated with the organization seems to wholeheartedly embrace that.
"I would have never dreamed of owning a professional team," she told the players. "I'm completely blessed by it. I loved it last season even with the ups and down. I've grown a lot and am even more prepared for season two. This is what it's all about, helping you reach your full potential in all aspects of life."
– – –
ROSTER
0    Christian Davis             6-3   Guard
1    Mike Lyons                    6-0   Guard
2    Brandon McClester     6-2  Guard
3    Anthony Jackson         6-5  Forward
4    Jose Davila                    5-9   Guard
9    Kasheef Baker              6-7   Forward
10  Nathanial Hill              6-8   Forward
12  Bradley Christian        6-7   Forward
14  Chris Calvan                6-5   Guard
22  Michael Davenport    6-5   Guard
23  Aristotle Nitrata          6-8   Center
31 Oswinn Hines               6-8   Center