Brandon McClester is in his third year as a member of the Jamestown Jackals. Not surprisingly, the Pittsburgh native feels right at home at the Physical Education Complex on the campus of Jamestown Community College.
"I think what draws me back are the fans," McClester said, "giving back to them and the community."
The 6-foot-2 guard's talents were on display for the large crowd to see Sunday afternoon as he poured in 29 points, grabbed eight rebounds, collected four steals and dished out a pair of assists to lead the Jackals to a 118-94 victory over Dubois in a North American Basketball League Northeast Division game.
The win improved Jamestown's record to 10-2 overall and 5-2 in the division, which is good for a first-place tie with Chautauqua. The Jackals end the regular season with a pair of games this weekend — at home against Elmira in a non-division contest on Friday and against the Hurricane in vital divisional game at Brocton Central School on Saturday.
"That game means a lot," Jackals' coach Ken Crosby said. "I wish it was at home, but we'll be ready for them."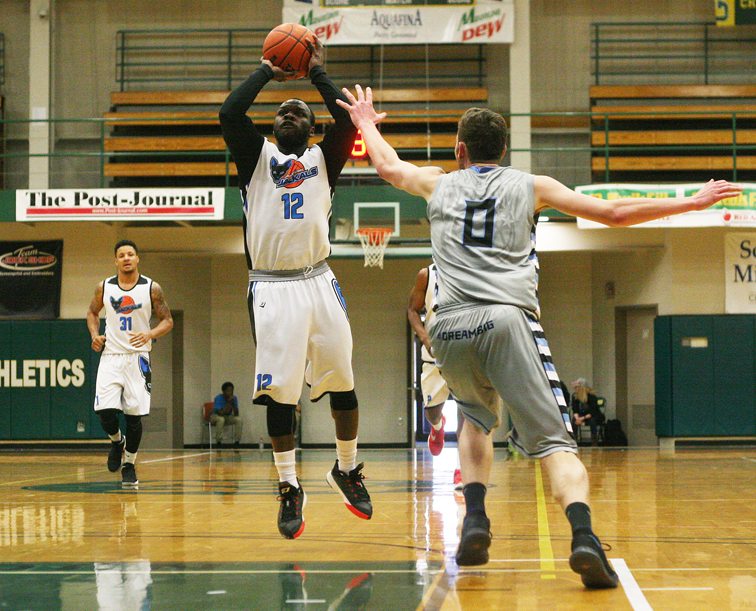 Continued strong team play should help. In addition to McClester's fine effort, his teammates — all six of them — stuffed the stat sheet.
Damien Harris poured in 24 points to go along with five rebounds, four steals and five assists; Daniel Mulamba scored 19 points, grabbed 16 rebounds and blocked seven shots; Xavier Churnac had 18 points and nine boards; Maceo Wofford added 11 points, four assists and three rebounds; Leventrice Gray had 9 points, 11 rebounds and two steals; and Michael Davenport chipped in 8 points, four rebounds, three steals and eight assists.
"We've only got seven guys right now," Crosby said. "Hopefully, Latrell (Alford) will come back for next week and the playoffs after that."
Jamestown certainly didn't look short-handed.
In fact, the Jackals were on fire to start the game, connecting on 15 of their first 20 shots to take a 39-25 lead after the first quarter. McClester had 13 points to lead the way.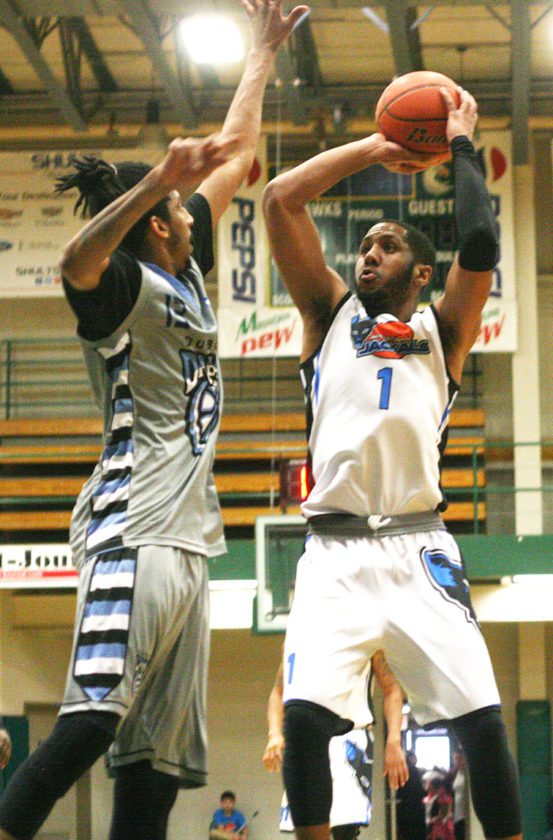 Jamestown appeared to be in control as it expanded its advantage to 61-41 at intermission, but Dubois used a 23-5 run to close the deficit to 79-75 in the final minute of the third quarter.
Mulamba broke the Jackals' offensive drought on a nice feed from Davenport, and McClester ended the period with a strong drive to the basket to push the hosts' lead to 83-75.
Jamestown was just getting started.
In the first five minutes of the fourth quarter, the Jackals went on an 18-3 run to put the game away.
"Basketball is a game of runs," McClester said. "We had to refocus mentally, dig down and get stops."
Tristan Pierce and Cory Huff led the Dream with 15 points apiece, DeOndre Terrell had 13, Hasiin Dixon and Trey Johnson each had 12, and Albert Varacallo chipped in with 11.
"The way it looks, the winner of the game between us and Chautauqua gets the bye in the first round (of the playoffs)," Crosby said. "The loser will play Dubois in the first round and the winner (of that game) will take on the number-one team."