Buoyed by nine second-half 3-pointers, Rochester broke open a close game and went on to down Jamestown, 101-89, in a Premier Basketball League game at Jamestown Community College on Sunday afternoon.
Corey Allmond led four RazorSharks in double figures with 30 points, including eight shots from beyond the arc; Jerice Crouch and Deverell Biggs each had 15 points; and James Helton chipped in with 10.
The win raised Rochester's record to 16-2 while the Jackals fell to 9-7.
Jordan Bowling and Oswinn Hines paced Jamestown with 14 points apiece, Nathaniel Hill added 12 and Brandon Mcclester chipped in with 10 before a large crowd at the Physical Education Complex.
The Jackals trailed by only a point, 46-45, at halftime, but the Razorsharks hit several shots from deep early in the third quarter, which allowed the visitors to build a working margin which they maintained the rest of the way.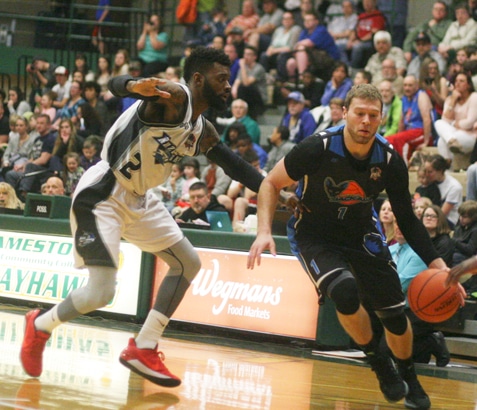 For the game, Rochester shot only 38 percent from the field, but it was 9-of-23 from the arc in the second half, which proved to be the difference.
Jamestown, meanwhile, was only 31 of 87 from the field and just 23 of 35 from the charity stripe.
Bowling grabbed a game-high 13 rebounds for the Jackals, and teammates Kevin Crescenzi and Michael Davenport both had five assists.
Crouch had seven assists for Rochester, which maintains a 1.5-game lead over second-place Kentucky. Jamestown is in fourth place, two games behind Ohio.