This year is the year of the rivals on the court in Western New York. The latest installment of rivalry matchups in the playoffs takes place this weekend, as the Chautauqua Hurricane and the Jamestown Jackals face off in a best-of-three series for the Northeast Conference title in the North American Basketball League.
"We're very excited," Chautauqua Hurricane coach Jerome Moss said. "We've worked very hard to get to this point. … This is the perfect way to end the season."
When the season began, many would have not imagined Chautauqua would be in such a position. Jamestown blew out the Hurricane, 100-62, in the first game of the season for Chautauqua on Jan. 26. Nearly a month later, Jamestown beat Chautauqua again, 119-96, to take both games of the series on its home court in the regular season.
Chautauqua bounced back nicely, with back-to-back wins over Dubois and Ohio, which set the stage for a battle with Jamestown in Brocton for a share of first place in the conference on March 9. Chautauqua came away with a thrilling 102-99 victory, as Michael Davenport's potentially game-tying 3-pointer fell short. Ralph Williams led the way for Chautauqua with 28 points, 11 assists, eight steals and six rebounds in the game. Jonny Marsh added 22 points while Marcus Feagin had 21 points and 16 rebounds.
The two teams faced off again in Brocton on March 24, this time with sole possession of first place on the line. Once again, Chautauqua came away with the win, 114-105. Williams was again the leading scorer for the Hurricane, with 27 points and 12 assists, along with five steals. Marsh surpassed the 20-point mark again with 23 points while Larry Rivers added 21 points of his own.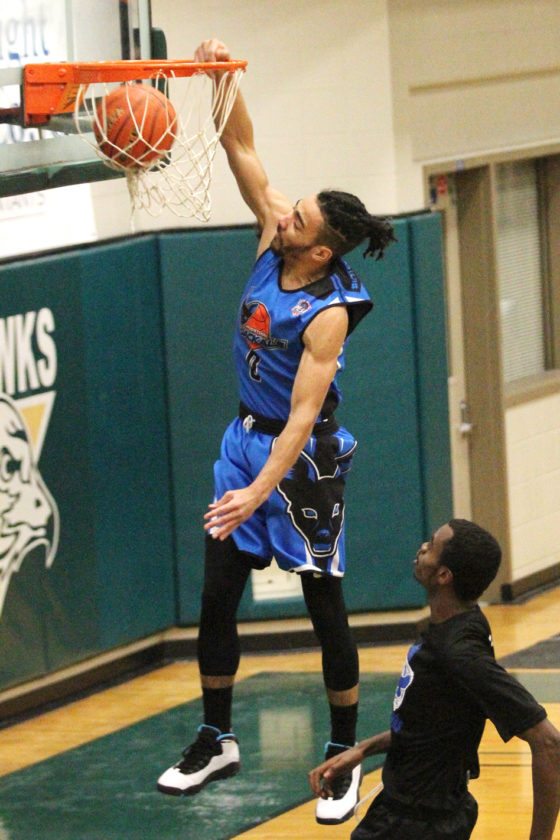 "We've improved 100 percent from the start of the season," Moss said. "In this league, players come from many different places and they are all good individual players, but they have to learn how to play together. … Now that we've gotten to know each other, everyone has sacrificed to become a team."
Though Moss listed Feagin, Marsh and Rivers as players to watch, Williams in particular will be a key to the Hurricane's plan this weekend. With double-doubles in each of the last two games against the Jackals, Williams has taken the responsibility on his shoulders to run the offense, whether it be his own scoring or by getting others involved.
"Ralph is a great basketball player," Moss said. "He's been running the offense well all year, especially against Jamestown."
For Jamestown, Moss acknowledged Davenport is someone to watch, but that Chautauqua will not be focused too closely on any one player.
"Michael plays a big role every game for us, both on offense and defense," Jamestown coach Ken Crosby said Thursday evening. "In any single game we have played (against Chautauqua) there seems to be one or two players who step up, both for Chautauqua and us at Jamestown. You never know which players or group of players that's going to be. That's just a tremendous compliment to both teams and the ownership that has put together these teams."
Another key in the series will be the home-court advantage for Jamestown. In all four matchups this season between the two rivals, the home team has come away with the win. With every game in the series taking place in Jamestown, the home-court advantage will be on the Jackals' side.
"I think it will be a really intense game, on both sides," Crosby said. "They are going to have some fans ready to cheer on their team, and our group of fans will be just as intense, and we are hoping even more people will come because it is a playoff game."
Action will get underway tonight at 7 p.m. at Jamestown Community College. Game 2 begins Sunday at 4 p.m. and if necessary, a winner-take-all Game 3 will take place on Tuesday.